About Staff Layout 2
Utilizing the Members database in Ekklesia 360, Members of a particular Group will be displayed. Here's an image-heavy grid view.
Our Staff
« Back to Staff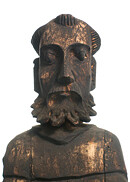 Frank TheMonk
Customer Advocate
office: (877) 452-0015
mobile: (111) 222-3333
The Monk began his career as a tree. Later in life, he was chopped down and whittled into his current shape to represent St. Francis. At the Monk office his job is to remind us of our service to so many churches and great causes. He likes keeping doors open, preventing papers from flying out of place, and generally making rooms brighter.